New insurance policy Q.P.F. No. 2
October 11, 2019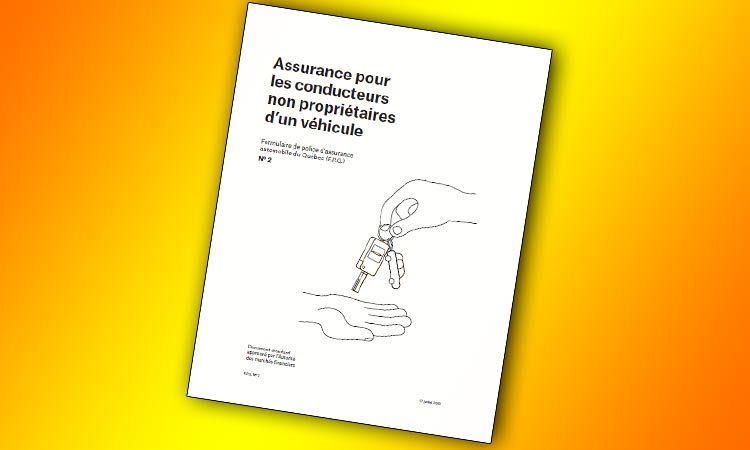 On October 10, 2019, Autorité des marchés financiers (AMF) and Groupement des assureurs automobiles (GAA) announced the issue of the new Quebec Auto Insurance Policy No. 2 – Insurance for drivers who do not own a vehicle (Q.P.F. No. 2), and its endorsements.
The new auto insurance policy is for drivers who do not own a vehicle, but who use vehicles that belong to third parties, and who wish to benefit from full insurance coverage. 
A completely revised and easy to understand policy
The new form, which is easier to understand, was drafted by GAA members and AMF representatives. This initiative is part of the work ongoing for the other auto insurance policies to promote a better understanding by consumers.
"The Committee members worked together closely to develop Q.P.F. No. 2, to ensure it meets the needs of non-owner consumers. This policy is simpler, clear and easy to understand for consumers. This is reflected both in the wording used and visual presentation", noted Louis Morisset, President and CEO, of the AMF. 
A new policy to meet changing needs
The new Q.P.F. No. 2 reflects the emerging needs of consumers, who are turning increasingly to the sharing economy, notably for vehicle sharing.    
"This paradigm shift requires a new form of coverage for drivers who do not own a vehicle. The new policy offer them an innovative product that provides coverage for the vehicle borrowed, as well civil liability coverage", Johanne Lamanque, General Manager, of Groupement des assureurs automobiles.
Consult the new policy.
Back